Approfondimenti
Scopri come Microsoft® HoloLens 2 migliora l'applicazione pratica del dispositivo nel mercato del lavoro e la cooperazione attraverso un visore per la realtà aumentata.
Il futuro del lavoro
HoloLens 2 offre una combinazione rivoluzionaria di hardware, realtà mista e intelligenza artificiale (AI) per portare la tua produttività in un territorio inesplorato.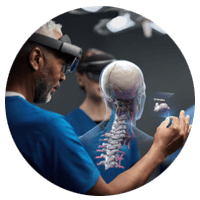 Immersive
Untethered hardware and a large, high-resolution display give you the full picture of your surroundings.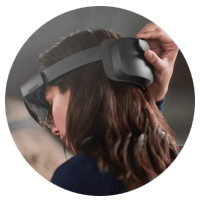 Comfortable
The headset is designed to provide optimum fit, minimal eye fatigue and consecutive hours of use.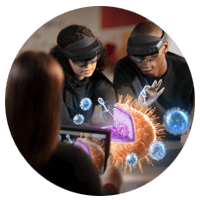 Intuitive
User-friendly voice and hand commands let you seamlessly interact with holograms in your environment.
Sfida le limitazioni spaziali.
HoloLens2 non solo si limita a riconoscere l'ambiente di lavoro nell'immediato, ma facilita anche la collaborazione tra le varie sedi aziendali. L'assistenza da remoto di Dynamics 365® permette di connetterti e collaborare utilizzando videochiamate in vivavoce, condivisione di file, in modo da poter risolvere i problemi e completare le attività insieme e in meno tempo.
La semplice implementazione dell'app, gli aggiornamenti automatici e una robusta  struttura di sicurezza forniscono un percorso ininterrotto alla collaborazione virtuale. Inoltre, è compatibile con le app Microsoft già utilizzate, tra cui OneDrive®, Power BI®eDynamics 365 per Field Service.
Espandi le tue capacità di AI.
La trasfomazione dovuta dalla tecnologia alla base di HoloLens, va ben oltre il suo visore. Il kit di sviluppo Azure® Kinect® include sensori ad alte prestazioni, una videocamera e un array di microfoni in un unico dispositivo compatto e versatile.
Il pacchetto più piccolo contiene grandi funzionalità che gli sviluppatori possono utilizzare per creare soluzioni di AI, dall'automazione delle procedure di inventario all'eliminazione dei rischi dell'area di lavoro. Inoltre, un'accurata integrazione con Azure Cognitive Services e Machine Learning rende il tuo sistema facile da ottimizzare e scalare.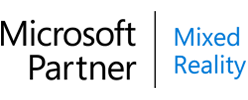 Soluzioni aziendali rivoluzionarie
In qualità di Microsoft Mixed Reality Partner, il team di Digital Innovation di Insight crea esperienze di realtà mista che aiuta i nostri clienti a rivoluzionare il modo in cui affrontare le sfide aziendali.
Nota: Le richieste di prenotazioni di HoloLens 2, vengono attualmente accettate soltanto da Stati Uniti, Francia, Germania, Irlanda e Regno Unito. HoloLens 2 non è stato ancora autorizzato ai sensi delle norme della Federal Communications Commission (FCC) degli Stati Uniti o della Direttiva 2014/53/UE. La vendita e la distribuzione effettive di HoloLens dipendono dalla conformità  ai requisiti applicabili della FCC e della Direttiva 2014/53/UE.