Panoramica della soluzione
Nutanix Mine with Veeam è una soluzione completa per la protezione e la gestione dei dati che include tutti i componenti hardware e software necessari per supportare qualsiasi ambiente virtualizzato o legacy. Consente il ripristino granulare dei dati per applicazioni mission critical e un percorso verso soluzioni di conservazione dei dati a lungo termine con Nutanix Objects, Veeam Cloud Tiered, supporto su nastro e molto altro.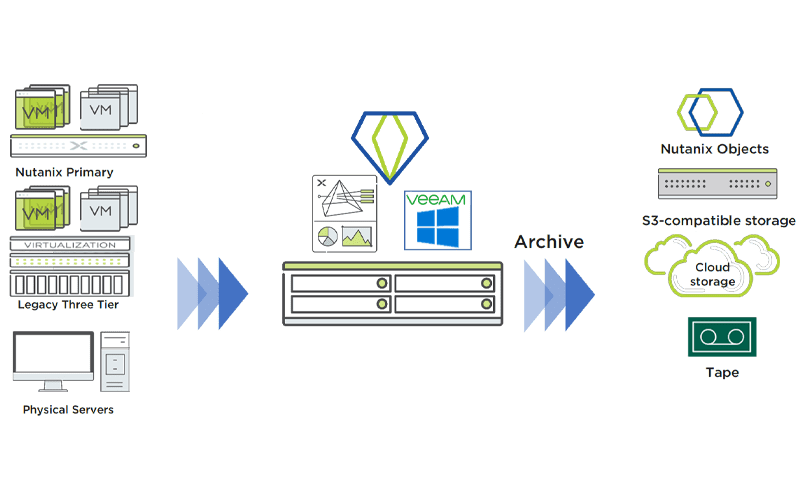 Protezione e gestione completa dei dati
Nutanix Mine with Veeam è una soluzione di storage secondario progettata per proteggere sia il tuo Nutanix che il tuo ambiente IT legacy. Offre la funzionalità avanzata e il supporto di Veeam Backup & Replication ™ Enterprise Plus e può sfruttare le capacità di tiering del cloud di Veeam per passare a posizioni di archiviazione a lungo termine, come Nutanix Objects o storage compatibile con S3.
I vantaggi della soluzione Storware sono:
Time-to-value più rapido: esperienza del cliente semplificata per il dimensionamento, l'ordinamento, la distribuzione, la gestione e la scalabilità. Operazioni IT unificate: operazioni integrate dall'implementazione alla gestione quotidiana dei dati. Drop in, scale out — Espandi senza interruzioni il tuo ambiente di protezione dei dati esistente per adattarlo al business. Singola soluzione semplificata: creata e supportata da due leader di marketing per eliminare la complessità